Hey, Girl!
Yes I'm talking to you. The one who's given up on dating because you don't have time for games. The one who has somberly declared defeat because there are no good men left. The "Erykah Badu in a world full of Beyoncé." The girl who "can't twerk, roll a blunt, or get 100 likes," but you "can clean a house, cook a meal, and make [your own] money." The one who's convinced she remains single and unchosen because thots of the world are winning.
You're single because you're not as valuable as you think you are.
This was my crude retort to another woman in the course of an online discussion. I wasn't addressing a side chick or a woman with whom I had beef. I simply recognized a person who had been lulled to sleep by the notion that men view the permanence of sex in the same way as women. Although women constantly swear to the heavens that they know sex won't keep a man, they still do things that reflect the contrary. Even right down to how we talk about other women.
Consider how we treat Blac Chyna and Erykah Badu. When Blac Chyna began to date Rob Kardashian, we watched as he began to shift from depressed recluse back to the vibrancy of his former self. You know how most of the internet water cooler responded? That Blac Chyna must have some good a** p**sy. The idea that that her good character was making marked impact on this man was not entertained. No, she was solely reduced to her sexual prowess by both men and women who'd already previously reduced her to nothing but a stripper hoe.
Even Erykah Badu, Patron Saint of Hotep, is not exempt. Every man she's dated or procreated with has been transformed and impacted by her. And the credit for that is always assessed to her love pocket rather than her character.
We as women are just as guilty of rushing to call another woman a hoe. This is in part due to competition for partnership but it's mostly a way to project our insecurities onto another person. The social definition of a hoe is only consistent in two ways:
That it varies from person to person and;
The body count value will always be high enough to exclude the person defining what makes a hoe.
What you really care about, though, is why someone who has been deemed to be valueless due to her promiscuity is being chosen over women who are less promiscuous and thus more valuable. Allow me to help out by debunking the "Power of P**sy" and expose how your value chain has you losing.
1. You Think Withholding Sex Increases Value
All the self-help books, your favorite blogs, and anecdotes of all the other good women who remain single agree on one thing: if you want your mate to respect you, you'll make them wait at least 90 days for sex. You believe that 90 days, roughly 3 months, will allow you to get to know the depths of your new partner beyond the stage of infatuation and lust. You believe, as Steve Harvey has preached, that waiting 90 days "signals to a man that you are not a plaything – someone to be used and discarded. It tells him that what you have – your benefits – are special, and that you need time to get to know him and his ways to decide if he deserves them." Only hoes give it up quick, making it hard for good women to get the good men.
You're losing because you've bought into the notion that withholding sex gives you power.
Congratulations, you lost. You're losing because you've bought into the notion that withholding sex gives you power. Do you think men are living under a rock that keeps them from knowing about the 90-Day Rule game? Even if he agrees to abide by your rules, does it guarantee that he's not getting sex elsewhere?
Without a commitment and title, he is not obligated to be faithful to you. Girl, he KNOWS how to play the role of what you want him to be and do in those 90 days. That's not to say that all men play games, it is to say that you're going to need something deeper than a sex clock to gauge his intent.
Too often, women believe that controlling sex will force the man to quicken his pace in assigning a title and commitment to a relationship. Have you considered that withholding sex purely for the purpose of getting a title (committed monogamous relationship) could be seen as a character defect?
Consider this: if you haven't taken a vow of abstinence (as I have for nearly five years) and you're solely withholding sex to control when a man defines your connection to him, a man may question what else you choose to withhold to control his actions. Will you withhold emotional support when you're angry with him for not doing what you want? Will you withhold financial support if the money isn't going where you want it to go? If you're willing to forego supplying your partner's needs based on how you feel, does that still make you a good, high-value woman?
2. You Value Silence as Letting a Man Lead
Even if you're sexually liberated enough to know that a timeline doesn't define your value as a partner, you still find yourself popping the same question soon after sex: "So, what are we?" He tells you everything else besides "you're my girlfriend" and you silently acquiesce, hoping that it'll eventually circle around to what you want out of the situation. You continue to use sex and other subtle cues to read into what he "really" feels. Instead of having a second conversation about it for fear of getting curved, you assume your silence allows him to lead the two of you.
Choosing silence over the hard questions leads to situationships, not relationships.
Yeah girl, you lost. You're losing because you're using sex to communicate your desires instead of just speaking up honestly about what you want. Many women view sex as an impermeable bond between two people and, therefore, believe that a man should know that she wants commitment the moment she slides her panties to the side for him. Problem with that is men don't view sex in the same way. Men don't place an immediate value on sex, it's just something to do. Women see sex as an emotional investment, men don't view sex as anything until they're emotionally invested. Yep, you guessed it: your sex isn't gonna be what makes him emotionally invest. Open up that Michael Kors trick bag and dig a lil' deeper, girl. The "hoes" are beating you here because they recognize their value is not in their sex, unlike so many so-called good women.
3. You Value Speaking Everything except What's on Your Mind
You think sex is powerful enough to drive a man to commitment and to keep him committed, but you can't even own your sexuality. You're too afraid to speak up about what does and doesn't please you sexually. You won't speak of your sexual fantasies because you don't want him to think you're a freak hoe. You won't perform certain bed tricks because you don't want him to wonder about the number of men you've done it with, labeling you a nasty hoe. You're quick to speak on everything and everyone else except what makes you happy. This is why you continue to lose out on both happiness in a committed relationship and sexual pleasure.
Not only have they not wrapped their supreme value in what lies between their thighs, they're not afraid to be vocal about what they want out of a man. Be it finance or sexual pleasure, the hoe isn't afraid to voice her needs. Good women believe in the scarcity of good men. The "hoe" knows if this one won't comply, there will be others who will.
Good women believe in the scarcity of good men. The "hoe" knows if this one won't comply, there will be others who will.
The man that you're longing after has been with enough women to know that your inability to voice your desires is merely a manifestation of emotional insecurity. Who knowingly wants an overly insecure partner for the long-term? You want to be "committed" but you aren't secure enough in yourself or him as a man to be open and honest about YOUR own needs. So how can you possibly be valuable to him and help actualize his needs outside of the bedroom? So now because society has taught you that your power is sex, men now use your thoughts and behaviors about sex to assess your behavior about a multitude of other things. Stop believing that men aren't that deep so that you underestimate his knowledge of how to deal with women.
4. You Value Low Mileage as Marriage Material
You pride yourself on the fact that you're a choosy lover. You brag on the fact that you can count your sexual partners on one hand or that you're well below 2 digit numbers. You know your body is harder to gain entrance to than Fort Knox. You also know that this is what makes you a virtuous woman and qualifies you as marriage material. After all, no man wants what everyone else has had.
There's only one small flaw to your logic: you forgot that promiscuous women get married too. Karrine Steffans literally has books and scores of interviews detailing numerous sexual exploits with multiple men. Yet, she's been married THREE times. Why? Because her character, not her body, was perceived as added value to her husbands and the men who dated her long term. The hoes you lament so much are curled up with the man of your dreams as you sit home watching Oprah's Lifeclass while planning your imaginary wedding on Pinterest.
You're losing because you've failed to realize that a woman must add value to her partner's life outside the bedroom in order to be chosen as a long-term emotional, spiritual, and financial investment. Karrine's value may not be much to you, but to the men who chose her she added something that couldn't be replicated with another woman. Even if all that woman's value to him is a boost of confidence to his ego to enable him to be his best self, it is value added.
Honestly ask yourself: "what value do I add?"
Honestly ask yourself: "what value do I add?" Do you provide honest opinions in conversation with him? Do you give the same emotional vulnerability that you demand in the relationship? Do you offer support to his dreams, bringing to the forefront obstacles that only a wise woman is intuitive enough to see? Or are you a dream killer, dismissing every idea he presents for your opinion regardless of its feasibility. Are you the woman who demands more than she's willing to give in partnership? If you're a broken person with nothing to offer, you're still not getting chose whether you've got the body mileage of a 2017 Aston Martin Vanquish or a 1985 Ford Yugo.
5. You Value Yourself as "Different" than Other Women
You're not like those other girls. You know, the superficial ones who only care about having the latest purse or shoes. You're not the typical girl spending more time on hair, makeup, and Instagram filters than on her hustle. Oh no, you're the girl who would only needs lip gloss. You'd rather focus on your grind at the corporate job you landed after finishing your Master's degree. Won't catch you out at a club, no! Any man who's going to find you will have to catch you at Starbucks or brunch with your single home girls. You're the perfect girl for a real man. Loyal, sweet, and not in these streets. Hell, you're such a prize catch that you never believe that you are even partially responsible for failures in your relationships. He didn't know a good thing when he had it. He didn't know your value or your worth. It's his loss and he's simply moving out of the way for a real man to step in.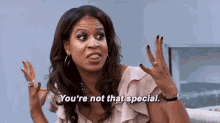 Except you're about as different as the next special snowflake girl who thinks the same stuff about herself. You're as different as the next insecure woman labeling every other woman a thot or basic bitch because she puts more time into her appearance than you do. You're losing because you're spending so much time trying not to be like "those" women that you don't even know how to be yourself.
Tired of Hoes Winning? Get the Scoop Straight to Your Inbox in "Hoes Ain't Won 2: The Fix"
Hoes ain't won, you've just lost! Check out 5 reasons why good sex isn't getting good women chosen as life partners.